Important note: There is a more recent article which covers a newer version of ViewPagerIndicator. Please refer to this in conjunction with this article
In the part 1 we got a simple ViewPager working with a TitlePageIndictor. This gave us some pretty impressive results for a relatively small amount of effort. But, given that this blog is focussed on making things look good, what about if you want to change things?
Firstly, let's change the blue line and arrow on the TitlePageIndicator to be green. First let's create a style file in res/values/styles.xml:
[xml]
[/xml]
Now let's modify the layout in res/layout/main.xml to add the style to the TitlePageIndicator:
[xml]
[/xml]
Regular readers of this blog should be pretty familiar with what's going on here, so I won't go in to unnecessary detail. The key thing is that Jake has exposed some attributes which allow us to style the control. You can view the available attributes in his attrs.xml. I won't bother to detail all of the styleable attributes of Jake's control as I think that the annotations in attrs.xml are fairly self-explanatory. For further details of how styleable attributes work, please refer to the articles on Custom Controls.
If we run this: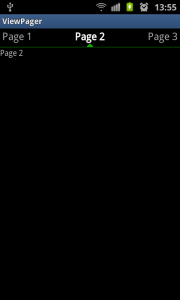 The next thing that we'll look at is how well multi-directional scrolling works. Getting a vertically scrolling widget working inside a horizontally scrolling parent layout has caused many an Android programmer problems. How does ViewPager cope? Extremely well! Let's modify our ViewPagerAdapter to include a ListView rather than a simple TextView. We'll change the instantiateItem() and destroyItem() methods:
[java] @Override
public Object instantiateItem( View pager, int position )
{
ListView v = new ListView( context );
String[] from = new String[] { "str" };
int[] to = new int[] { android.R.id.text1 };
List